Destruction, Removal, Haul, Clearing, Raze...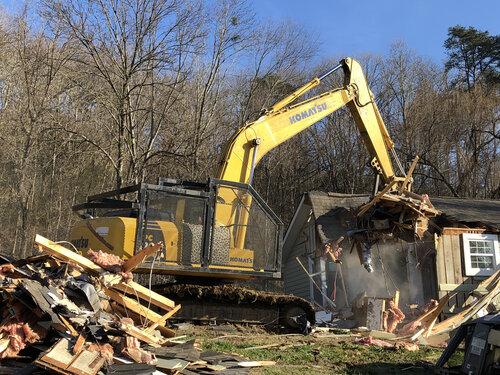 Our dedication to safety is one of the main characteristics that distinguishes us from other demolition businesses. We are aware that demolition may be a dangerous process, so we take every safety measure possible to protect both our team members and our clients. This entails utilizing cutting-edge machinery, abiding by all applicable safety laws, and giving our staff continuous training to keep them informed of the most recent safety procedures.
We take great satisfaction in both our efficiency and our emphasis on safety. When it comes to demolition jobs, we know that time is of the utmost, thus we make every effort to finish each one as swiftly as we can without compromising quality. We collaborate closely with our clients to establish realistic schedules and adhere to all deadlines, and we use cutting-edge methods and tools to ensure that every project is finished as quickly as feasible.
We have the experience and know-how to undertake any kind of demolition project you have in mind. We provide a comprehensive range of demolition services, such as industrial, commercial, and residential demolition. From little residential constructions to huge business buildings, we can manage all types of projects. We have the knowledge and tools necessary to meet all of your demands.
We provide a variety of different services in addition to demolition that might assist you in finishing your project on schedule and within your allocated budget. This covers services for excavation, land development, land surveying, and land planning. With our comprehensive approach, we can assist you in managing every facet of your project from beginning to end.
Give us a call if you require demolition services in South East Tennessee, North East Alabama, or North West Georgia. We would be delighted to go over your project in greater depth and offer you a free estimate. We at Brogdon Construction are dedicated to providing our clients with the finest caliber services, and we welcome the chance to collaborate with you.
Superior Land Development Services
We Work With The Latest Technology
Six Reasons For Choosing Brogdon Construction